Glass Railing.


Give a tap and get affordable glass railing installations in Calgary with our professional glass installers!
Glass Railing Repair and Replacements at the Best Price:

Feel secure as you stand on your balcony or terrace thanks to the glass railings. A glass railing is a timeless option that enhances the appeal and design of your deck. With our contemporary aluminium railings and chic bamboo handrail, let the elegance flow.Do you want to give your balcony a modern touch or install a handrail for emphasis and home safety? We can assist. To change the look of your interior, we provide a variety of architectural glass railings in common colors. We take pleasure in providing Calgary with durable glass railing repair and replacement services at competitive prices.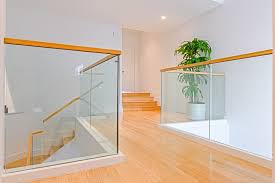 Purchase Lightweight, Secure Glass Railings For Your Residential Building:
Any property can benefit from a staircase railing system's clean, contemporary appearance and increased market value. In a handrail, fire rail, or stair rail, the glass baluster is a metal spindle. These balusters give off a strong, supportive vibe.
We are the best glass company in Calgary and have years of installation experience for distinctive glass railings. To make your bespoke glass railing as secure, long-lasting, and appealing as possible, our professionals carefully measure each glass pane.
Our Glass Railing Replacement and Repair Services Include:
We provide high-quality services to consumers including residential glass railing, safety handrails, and framed glass rails that are great for staircases and balconies. We offer high-quality goods with powder coating finishes that are the ideal match for your building for an unobstructed view, in both conventional and contemporary styles.
We provide the appropriate low-maintenance glass railing design in a variety of styles, glass kinds, and custom color options, so you can choose a simple or elaborate design. To offer privacy and the greatest level of protection for glass panels, our glass installers utilize tempered safety glass. We work to increase the value of your home with opulent new glass inserts and mirror designs.
Creating the Ideal Look for Your Calgary Residence:
Your home might look more luxurious if the stair banisters have smooth, frameless deck view glass. We implement opulent ideas for the stair railing, and the best vinyl decking feels and looks like real wood. Although the privacy wall prevents the glass from being smashed, you can still look through it.
There's no need to worry about broken glass. We provide long-lasting glass railing repair and replacements at the best price, whether you want to install it or fix it. We are a reputable glass firm in Calgary offering knowledgeable glass rail solutions to homeowners. With a lifetime warranty and promised customer service, you can rely on us.